It's raining in Paris, and the sky's been gray all week. But thanks to my dear friend Jenny, things are looking up, up, up. Jenny dropped me some link love this week with some illustrated rooftop scenes by Australian-born, Brooklyn-based James Gulliver Hancock.
I have a special fondness for Parisian rooftops. When I first moved to Paris back in 2008, I lived up on the 8th floor and had an incredible view of the city, from the Bastille, Hotel de Ville, Pompidou, Eiffel tower and Sacre coeur–they were all there, but I would have been content to just stare out at the rooftops all day even without the greatest hits. I remember moving to a second floor apartment about six months later; oh, how I missed those rooftop scenes! When I went back to Paris in 2010 I stayed in a tiny 10m2 6th floor walk up (!) just to keep those rooftops in view. I'd wager that about half of my photos of Paris are of rooftops alone; they're just so darned charming! I always loved how that combination of bright orange chimneys and somber blue-grey slate seemed somehow still right even beneath the rain.
But enough reminiscing! Back to jgh, who, as it turns out, has another project, All the buildings in New York, where, yep, you guessed it, he draws all the buildings in New York. Yes that's right, all of them. Apparently the young Aussie has not yet started on Staten Island, though rumor has it he has made it to the ferry, so… baby steps? Here's a gander at one of his NY prints: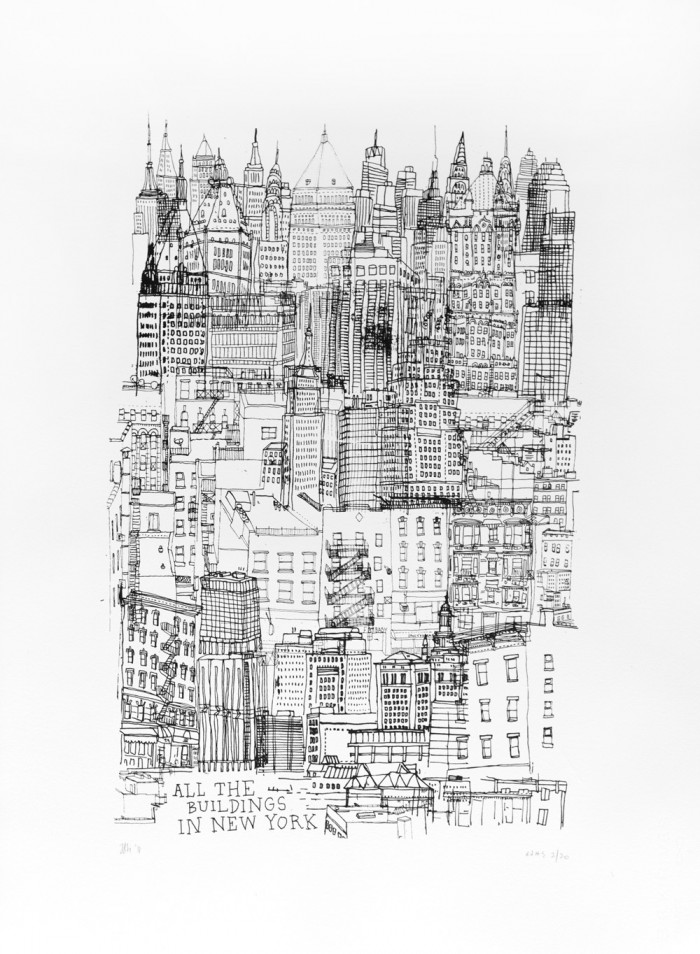 All of which makes for a pretty good view.